This wonderful piece is about being a student blogger in the true sense. easyblogemily rightly describes the dilemma faced by many students and how being a student and blogger can go hand in hand. She has very well written how a student can follow their heart in achieving something they love and aspire to be. Here is a brief intro to Emily in her own words.
She is in her final year of university and will be graduating in June.
Being a student blogger has its ups and downs, but it is worth it. Outside of blogging life, I'm a student in my final year of an Advertising degree. I love to play the piano, I'm a massive fan of Game Of Thrones and Friday Night Dinner, and whilst I've lived in the UK all my life I'd love to move abroad one day!
You might think I'm crazy to run two blogs whilst studying. But I'm going to explain how I started blogging whilst being a student, how it's actually helping me with my degree, and what I'm hoping to do after I've finished studying.
Disclaimer:

This post contains affiliate links, which means we may receive a commission on products we have recommended. For more information look at the disclosure policy
How I Became a Student
Not going to uni was pretty much out of the question. Both my parents have a degree and my older sister went to uni at 18. So when the second year of college rolled around and it was time to start applying and I still didn't know what I wanted to study, I felt like there was something wrong. I had "sort of" interests in subjects here and there, but there was nothing that I wanted to go and learn about for 3 years. And then have a job in for the rest of my life.
I wasn't a bad student either. I'd had A*s and As in school.
But when I went to college, my grades were starting to slip and I wasn't sure why. Considering I'd done so well at school, combined with the fact that my sisters finished college with A*s and As, my grades of B, B, and a D didn't look so great. But I couldn't help it. I just wasn't that interested in learning anymore and there wasn't a career that I wanted to throw myself into and study hard for.
Coaxed by my mother, I completed a Foundation Diploma in Art and Design instead for a year to give me more time to figure out what I wanted to do. I'd always been creative, but I just wasn't sure I wanted a career in art either.
Becoming A University Student
During my foundation year, we had an open day for possible degrees to go onto after our foundation year. One really stood out to me; advertising. I hadn't even known you could study it! Plus it seemed to be a creative degree with a lot of career prospects. So I applied, and got accepted, and went to uni.
How I Discovered Blogging Whilst Being A Student
Fast forward to the end of my first year of university and my course wasn't what I had expected. I was becoming increasingly fed up with both my lack of enjoying my degree and not feeling driven with career prospects. In my frustration, I started to look for something to push me further. I was writing for websites here and there alongside uni but wanted something more regular and on my own terms.
I was also looking for ways to make money online at this point (if there's one stereotype that's right, it's students are skint!). I'd worked every weekend for the year of my foundation diploma, and let me tell you, washing dishes does get boring after a few months. I knew I was not going down that road again.
Whilst looking online for ways to make money online, I stumbled across a blogger who had shared an income report. It was an absolute light bulb moment for me. How had a not known blogging was a thing?!
Becoming A Student That Blogs
I spent the following weeks trying to pick a name, researching into how to start a blog, and deciding what to actually talk about. I eventually took the plunge, and I started my blog at the end of my first year. With a few months off for summer, I was going to make this blogging thing work.
And…it failed. Nobody read it, I made no money from it, and I shut it down after a few months.
However, whilst starting that failed blog I realised blogging itself is very difficult to learn, and I really enjoyed learning about how it all worked. So at the beginning of this year, I started Easy Blog Emily to teach people the ins and outs of blogging.
How Is My Current Blog?
This one is a lot less of a fail, and I suppose some might call it a success. I have regular readers, I'm proud to show it to people and I've made money from it. We're not talking enough to pay my bills, but a little here and there.
As much as I'd like to be earning more, it's perfect for me as a student and it's money I've earned for myself by myself. (Not washing dishes!).
Plus I just started another blog just about general lifestyle posts like DIYs and beauty hacks. Starting a blog is even easier when you've already done it twice before, and it's getting traffic much quicker.
What About A Job After Being A Student?
Now I am in my third and final year, it's time to start applying for internships and looking at job prospects. There's just one problem though. Now that I'm close to graduating, I don't particularly want a job in advertising. Or even that I want a job at all. Not a traditional one anyway.
Let me explain what I mean. I'm talking about side hustling.
Why Do A Side Hustle Full Time?
Guys, it's the 21st century. People are making money online all the time, and people who are not enjoying their 9-5's are hoping to leave it behind them by finding ways to make money on the side.
The perfect example is my dad. My dad used to be a musician but gave it up to get a more secure job. It's not a job he hates, but it's also not one he really loves. I've grown up with him coming home looking exhausted, telling me and my sisters to try hard at school. But I've grown up with him side hustling.
This is a relatively new term when it comes to making money, so I don't even know if he knows he's doing it. But on the weekends when he's not working, he's writing and recording music, and telling me how much he'd love to give up work and do this full time. He doesn't even have to be rich, he says, just as long as he could do the thing he loves. I certainly didn't know I had been side hustling.
Alongside my studies, I had been trying to start my own business forever to varying degrees of success. From customising shoes and selling them when I was at school (fail) to starting my own wall painting business (a bit more successful, but not a full-time thing). Blogging is my side hustle alongside uni that I've stuck to for over a year now, and I've actually made money from.
So why do I want to side hustle instead of getting a real job? Because the job I want to have is actually to be a blogger!
Why Do I Want To Be A Blogger?
I don't know if you worked it out sooner than I did, but there wasn't an obvious course I wanted to study or a career I wanted because there aren't really obvious courses for bloggers.
When I discovered you could be a blogger as a job, I remember thinking "there's a job where I can be in charge of myself and write whilst still fulfilling my creative side? That I can potentially earn money from?" It is basically my dream job that I hadn't even known existed! I knew it was what I wanted to do, and it's still what I want to do now.
Throw in the fact that I love doing a mixture of tasks, I'm driven, enjoy being my own boss and like my work input to determine my income, and blogging is the obvious answer nobody seems to know about.
I'm sure a lot of people would love to be bloggers too, it's just a shame blogging as a job and the actual ins and outs aren't talked about more. I'm just glad I've found out about it sooner rather than later.
But What If You Don't Make It As A Full-Time Blogger?
I don't have my head completely in the clouds you guys. I wasn't about to drop out of my course and just throw myself into something I didn't know! (Although lots of people do to varying success).
And I'm also aware that I haven't yet made a full-time income. And sadly, I might not ever. However, even if I don't become a full-time blogger, I know you might think it's hurting my chances of getting a job spending a lot of time on a side hustle. But it's actually helping my career prospects.
How Being A Student That Blogs Is Helping My Career Prospects
Blogging has actually taught me loads. I've learnt so much through free information and paid courses.
I recently I applied for an SEO job (SEO is search engine optimisation, so basically ranking first on Google). I've learnt about this solely through blogging, and to my utter delight, I got a call back the next day! It's given me confidence that even if I can't blog full time at the end of my course, I have learnt skills through blogging that are sought after in today's job market.
I also now have something to call "mine" to show employers. At the end of their degree, some people have an art portfolio, others can speak a language fluently. I'll have a degree plus I have 2 websites with regular readers and a growing audience. It might not sound like much, but the skills associated with blogging are really valued in today's job market. Think SEO management, social media marketing, web design. These are all things potential employers will love.
Other Reasons I Love Blogging Whilst Being A Student
There are a few other reasons I'm glad I blog alongside my degree:
It has taught me time management skills
I wouldn't have learnt this from my degree alone. If you think doing uni work is hard, try balancing it with writing thousand-word blog posts every week! But because it's you in charge, it's up to you when you work. I regularly write posts whilst at home before going in for lectures. In fact, I'm writing this actual post at my boyfriend's house whilst he's preparing for a seminar.
It's a minimal investment business with a huge earning potential.
It virtually costs nothing to start a blog, and it's one of the only businesses I can think of where I could start it alongside studying with minimal investment (we're talking under £100) for a huge earning potential (some bloggers are millionaires). Gone are the days I'd think about saving money for an outfit for a night out- instead I'd rather be buying blogging courses!
It's reminded me that I do actually love learning.
It's easy to read my story and think that I shouldn't have been a student, but I know now I was just learning the wrong things in the wrong way. When I'm interested in something and not studying it for the sake of a grade, I will spend hours, days or even weeks learning it.
Are There Any Downsides To Being A Student And Blogging
Yes, and I've really been struggling with it.
It's the lack of social life. In my first year, I didn't have as much work as I expected and I wasn't really worried about life after university, so I went out drinking and partying multiple times a week. But once I realised how much I wanted to make blogging a full time thing, I stopped going out and put a lot of my free time towards it. And I mean a lot. When I'm not doing uni work, work for my blogs are my next priorities.
There's an ongoing joke amongst students that it's impossible to study, have money, get sleep, stay healthy and socialise, and you have to sacrifice one to get the others. I've found this especially true now that I run two blogs. I'll be real- my social life is pretty much dead.
And even harder than having no social life? You're pretty much the only person without one! At least in my friend circle anyway. Comments like "what's happened to the partying Emily we love!", "why don't you come out anymore?" and "you're so antisocial now!" are constant reminders that I am sacrificing a lot to do well at both uni and my side hustle.
I'm not annoyed at the people who say this by the way. Most of them don't know I actually run my blogs in my spare time. But unfortunately, there's an awfully inaccurate stereotype that bloggers do nothing. This is backed up by the fact that when a friend asked if I had a job and I told them about my blogs, they said: "Oh so you don't do anything then!".
But thankfully, I can actually live with it. I'm not locked in my room 24/7, I do see other people regularly both at uni and through people I live with, and I do actually socialise. I just know that skipping a night out will be worth it when I get a job that I love or even eventually blog full time.
Is It Worth Being A Student And Blogging?
Despite the one big downside, it is definitely worth it for me.
Blogging is more than the stereotype and is actually whatever you make it. If you want your blog to be based on good photography, you can focus on showcasing your photography skills. If you love the writing side, you can work on writing in-depth blog posts and build a writing portfolio. That's the great thing about blogging as a student. You can make what you want of it to ensure you enjoy, and even use it to enhance your job prospects (or make it your full-time job!).
I'm so glad I discovered blogging whilst still being a student. It has given me a focus and purpose I didn't really have before and has made me excited for life after university. I'd love to be earning enough to make this a full-time thing once I graduate. But even if I don't I feel a lot more confident applying for jobs with all the new skills I've developed through blogging.
So whether I'm a full-time blogger travelling the world or still side hustling it up like my dad, blogging is something I won't be giving up any time soon. And if there's one thing you take away from this, it's – if you're a student, start a blog. NOW!
Blogging is a way of expressing yourself to the world and nothing should hold you back. You too can become a blogger just like Emily and I. It is true that the journey is not that easy but with some hard work and effort you too can start your own blog.
A2 Hosting provides a premium platform to host your blog with 24/7 guru backup. When I initially started with blogging, I did not know much and came across a lot of issues while setting up my blog. Using the live chat and 24/7 service of A2 Hosting I am where you see me now.
I had compared about 10 other hosts and came to A2 as they offered the best package with a free SSL certificate (the https you see in front of web addresses), c panel, free email, backups, and unlimited memory (all the things you need for setting up a blog/website). After spending one month comparing and evaluating the price and value of a package, A2 proved to be the best. It also gives you 51% off 😀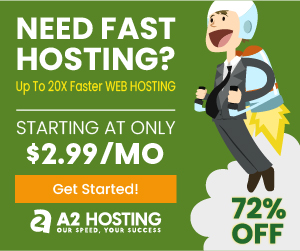 I hope you enjoyed this great piece by easyblogemily. This motivating article will help all students struggling with their decision of starting their own blog. Blogging is truly a handful job just like any other and can develop skill sets that are sought out in today's world as discussed by Emily.
Please do share this post so that other students, in fact, anyone who wants to start a blog is motivated to do so using A2 Hosting. If you too want to contribute to posting an article on my blog go to https://www.nupurspeaks.com/work-with-me/ to find out more.
Subscribe to my list to get free goodies every SUNDAY and THURSDAY straight to your inbox. My freebies include a planner layout, planner trackers, CV and cover letter template and much more.
Start something new today! Cheers!
Some of my favourite posts in the creative me section are:
How to make a DIY Tassel
10 DIY Bookmark Ideas in Under 10 Minutes
5 Types of Trees to Draw Step by Step
How to Set Up Your Monthly Planner with Free Printables
Some of my favourite posts in the technical me section are:
How to Write Undergraduate CV for Internships
A Simple Guide to Understanding LaTeX for All
5 Steps towards a Research Internship for Students with No Experience
5 Greatest Research Tools Every Graduate Student Needs