Disclaimer: This post contains affiliate links, which means we may receive a commission on products we have recommended. For more information look at the disclosure policy
While running a blog or website, one of the most useful items that go hand in hand with content creation, are forms that provide you the capability to collect emails, let your readers contact you or simply to even spread out some good freebies.
Many of you who might own or be working on an online business for some passive income or even simply running a website as a hobby, the integration of forms can go a long way. The collection of emails is one of the best methods for marketing towards a target audience who have read your posts and are willingly subscribed to your blog or site.
The easiest way of collecting emails is by creating a form where the reader can put in their email and contact information. This is where WPForms comes to rescue.
WPForms is a drag and drop plugin that can be used with WordPress for creating different types of forms such as email collection, contact forms etc. Founded by Syed Balkhi and Jared Atchison, WPForms is an easy to use, lightweight plugin, which keeps the working of your website at ease.
WPForms can be used in a variety of ways to enhance the overall capability of your website or blog. It can be a great tool for the following tasks:
Email Marketing
Contact Form
Collecting Leads
Feedback Forms
Collecting Funds (PayPal or Stripe)
In this article, I will take you through a step by step guide on creating a simple form for the collection of subscriber emails.
Step 1: Go To WPForms
After downloading and activating the WPForms plugin, you should notice an icon on the sidebar of your WordPress account. Hover over the icon and click add new.
Step 2:
You will then land on the front page of WPForms. Under setup, you should see various templates for creating a simple contact form, newsletter signup form, suggestion form and a blank form.
Click on create a blank form to start from a clean slate for an Email collection form.
Step 3:
Clicking on 'create a blank form' should take you to a window as shown below. This is where the fun begins. WPForms provides an extremely simple and elegant method of creating your Email Collection form using their drag and drop feature as shown above.
The fields which you can add to your forms have been divided into 3 parts respectively:
1. Standard Fields
Standard fields comprise of the most basic options that would be needed to create a form. These fields are free and can be added to your form any number of times.
2. Fancy Fields
Just as the same suggests, these fields are a part of the pro-WPForms version. These fields add extra capabilities to your form making it more customizable.
3. Payment Fields
One of the best features of the Pro-WPForms version is its capability of letting you add payment options right onto your form.
Step 4:
Once you have completed adding the necessary items to your form it should look something like this. I have added the most basic fields, however, you are free to add more options as you like.
Step 5:
1. General Settings
When you are done setting up the form, the next step is to go onto the settings bar. Here you can name your form and customize it as you like. If you want to add certain features to your form you can add some custom CSS class to it and modify it as you like.
You can also add what your button text should be and how it should look like.
2. Notification Settings
In this section, you can edit how to be notified when someone signs up for to Email list. You can make the variations on the subject of the email to what the message includes.
3. Confirmations Settings
Confirmation of signup is as important as the form itself. In WPForms the confirmation settings provide you with the capability of displaying a message, opening up a page, or redirecting your audience to another URL giving you the capability of taking them to any type of click-through as you like.
For instance, if you provide your audience with an incentive such as free printables or an ebook to join (which you should), you can redirect them to your resource page using this amazing option.
Step 6:
Now last, but not the least you can embed the form to any page or post of your choice. You now click on save on the top right corner and once it is saved click on embed.
A similar screen should pop up. Copy the code and embed it to any page you like!
There is a reason why WPForms is one of the best service providers of forms out there. WPForms provides various capabilities for users and gives you the opportunity to edit your work in any way you want. The pro version extends these capabilities and offers a wide array of options so that you can easily extend the operation of your blog or website.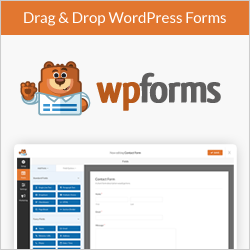 I hope you liked this article! If it helped you in any way be sure to leave a comment and share it with your fellow bloggers <3
Some related posts in technical me section are:
5 Online Course Sites Every College Student Should Check Out
21 Ultimate on a Budget Planner and College Supplies
11 Cutest Bullet Journal DIY to Boost Planner Organisation (With Freebies)